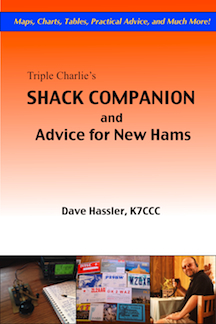 Check out Vanport Media's latest publication, Triple Charlie's Shack Companion and Advice for New Hams, available for just $6.99!  Click HERE!
---
At Vanport Media you'll get friendly, knowledgable assistance with your work, whether you need a proofread before laying out the final product, copyediting of a completed manuscript, or help developing your story.
The philosophy at Vanport Media is simple: be helpful. My aim is to provide useful service to as many people as I can, to aid you as you bring your words into the world. Sometimes, you've spent so much time on a story, essay, or article that you just can't see the difficulties anymore. I've been there, myself. Having an experienced editor in your corner can make all the difference, and I'm here to help. Contact me today for a free two- to three-page review of your work and an initial consultation.
Dave Hassler
---
Services Offered:
Editing
Design
Layout
Paperback, eBook, and Chapbook Publishing
Consulting
Writing Coaching
---
New clients receive a FREE two- to three-page edit and evaluation,
so contact me today to get started.